Fur Salon
We will never cage dry here! We are committed to excellent service and professional grooming treatments that are specially designed around you and your dog's needs. This attention to detail will allow our client's guardians to go about their daily business knowing their pets are being well cared for.
We book by appointment. Monday-Friday 8am-5pm and Saturday 9am-5pm. This means at the time you drop off your dog for services they will be receiving their spa treatment within that hour. Head to tail, most dogs are back home smelling fresh and relaxed in no time! (Grooming takes about 90mins for a small-med dog with normal coat conditions, expect 3-4hrs for larger or matted pets)
If you are out and about for the day, you can add an extra $17.00 and pick your dog up when you want to. Your dog will be able to enjoy the relaxed daycare exercise area before and after they get cleaned up. Watch your dog's enthusiasm grow the next time you say "bath time". You will quickly notice them getting just as excited at drop off time as they are when you pick them up!
Prices are determined by breed, size of dog and condition of coat. Note that all prices are starting and approximate. For a more accurate price, the groomer must see your pet.
Grooming Packages
Don't let your dog get matted! This will increase your grooming costs. We recommend grooming every 6-8 weeks, but of course, every breed is different so the length may vary. Navigate the tabs below for more details on our Fur Treatments. Call to make an appointment today 815-675-3877
Basic Fur Package
Prices vary with breed, call for more details
The best way to pamper your best friend is with a Spa Day! We start by thoroughly shampooing with one of our coat enhancing shampoos. We apply a luxurious and nourishing deep conditioning treatment that is great for long or short coats, followed by nail clipping, ear cleaning, a brush out and hair cut upon request. Refreshing all-natural Mango or relaxing Lavender cologne is also applied to leave your fur friend feeling and smelling great after their day at the Spa!
Two Paws
Additional $12.00 to your Basic Fur Package
This package includes everything from the Fur Basic Treatment plus trimming the nails, followed by nail grinding which smooths the rough edges on the nails while saving your floors from scratch marks. The hair on their paws is trimmed between their toes and on the paw pads as needed. Next, our popular tooth brushing using yummy fur friend approved toothpaste to freshen breath and clean teeth. Your Fur Friend will LOVE this treatment and so will your floors!
Three Paws
Additional $18.00 to your Basic Fur Package
All the glorious treatment from the Basic Fur Package and the Two Paws package, plus our highly regarded blueberry facial scrub – a soothing, deep cleansing facial scrub from the muzzle to the head to help get rid of food stains and odor. A must-have for sensitive skin!
Fur Buster
Additional $10-$20 to your groom package
Shedding season is upon us, but we can help keep all that hair under control by reducing the amount of shedding hair by 60%-80%! Our de-shedding package includes a special shampoo and conditioning treatment that works together to nourish healthy skin and coat while releasing the dead undercoat. The bath is followed with a complete blow dry of the coat using our powerful forced-air drier and additional brushing time using special de-shedding tools, including the popular Furminator Tool. While shedding can be a bothersome aspect for our fur friend's lives it doesn't have to take over our homes and wardrobes! Bring your fur friend in for our Fur Buster treatment and see results in as little as 1 to 2 treatments. This treatment helps your pet to look and feel their best! This can make your pet's treatment process a little longer then our 3-4 hours turn around depending on how thick the coat is.
Puppy Package
$25.00 for puppies under 6 months
Designed especially for puppies 8 weeks to 6 months, this package offers a great introduction to grooming for every puppy at an affordable cost. We highly recommend training your dog for adult full groom service to help you and your groomer in the future. Big or Small puppy is bathed with puppy safe shampoo, conditioned, blow-dried & brushed, nails clipped & ears cleaned. Introducing your puppy slowly to scissors & clippers with a face, feet & sanitary clip if requested for all breeds.
Additional Services
Nail Trim ~ $10.00
Nail Grinding ~ $12.00 ~ With grooming services $10.00
Teeth Cleaning ~ $8.00
BlueBerry Facial ~ $10.00
De-matting ~ $5.00 every 10 min.
Gland Expression ~ $3.00
Flea Treatment ~ $20.00
Ear Cleaning ~ $3.00
Face/Feet Trim or Sanitary Clip ~ $5.00 each
Meet Our Groomers
Larissa Plymale -Full time Groomer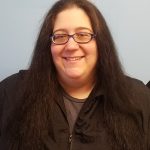 Larissa has a passion for dogs and over 13 years of experience in grooming, and has been with us since Feb. 2012! She is a proud owner of a Pomeranian Soochi and a new addition to her family, Zuul who is also a Pomeranian. Larissa works hard for every dog to look their best, whether you want your dog's toes painted or given a blueberry facial, she is your groomer to get your four-legged friend looking their best! Larissa will pamper your pets on Monday-Friday!
Carolyn Z – Groomer

Carolyn joined us here in 2022. We are happy to say Carolyn will be here for your furry friends on Mon, Tue, Wed, Thur.
Julie M – Groomer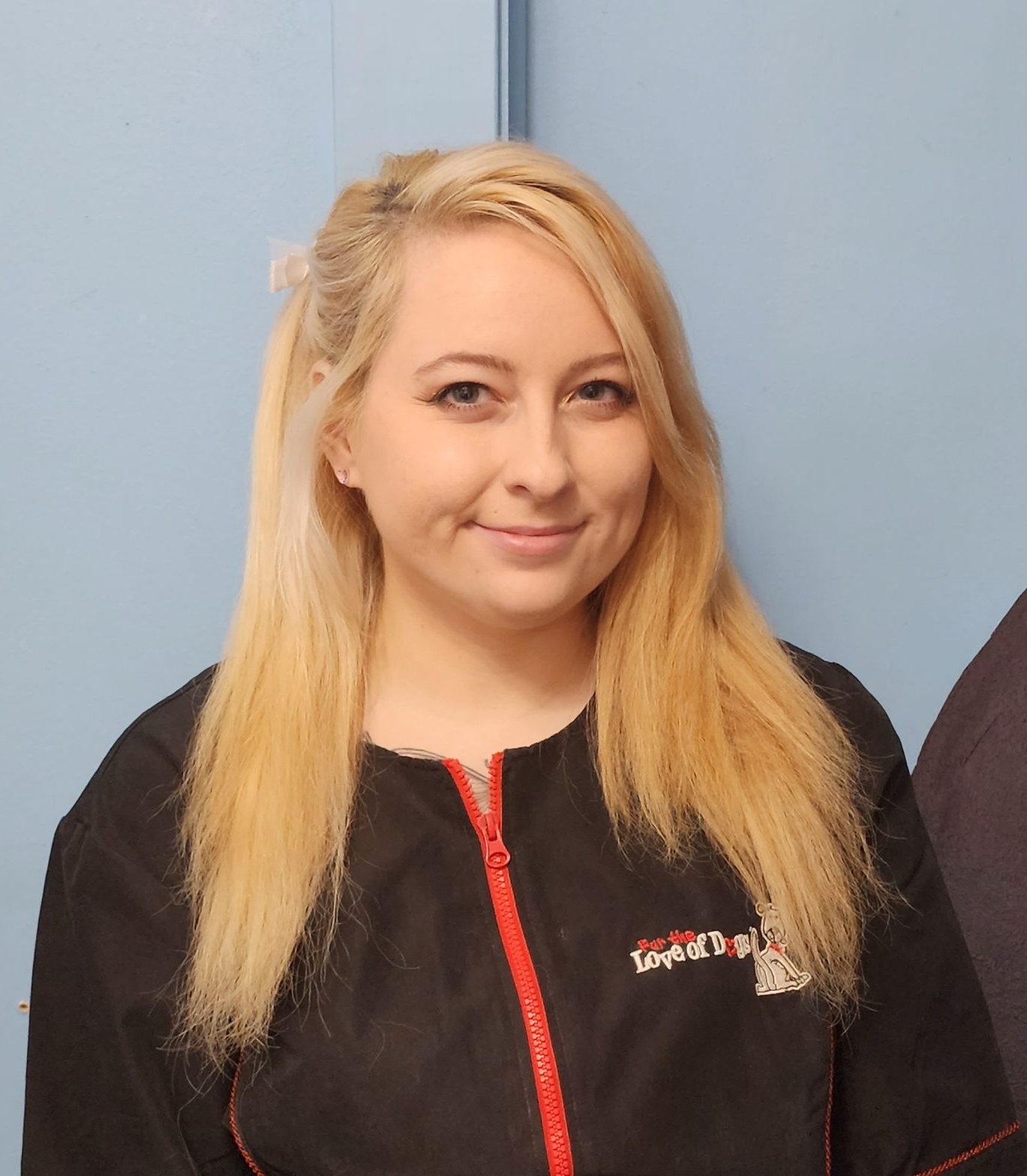 Julie joined us here in 2023 and we are very happy to have her on our team!
Julie will be here for your furry friends on Tue, Wed, Friday & Saturday's