Bark-A-Wish April, May, June. – Meet Benson & Beatrice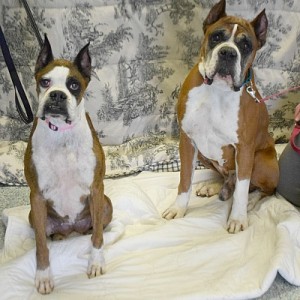 Benson & Beatrice
These two beautiful boxers were found in a dark alley in Southern IL. starving and freezing to death. They are 8-10 years of age and very friendly. It is clear that someone abandoned them to this cruel life in their senior years.
Benson and Beatrice are residing at the Animal House Shelter where they are warm, well fed and loved. Their journey is far from over! Benson is sadly heart-worm positive and both are battling respiratory infections and are underweight. Benson also has a few masses and growths that will have to be removed after his heart-worm treatments.
The estimate for these two for recovery is around $1,500.00.
Please consider donating to help Benson & Beatrice road to recovery.
Come in every Wednesday for a nail trim, ear cleaning, nail grinding and donate to help Benson and Beatrice! Call for more details 815-675-3877 Donate on line by clicking here.